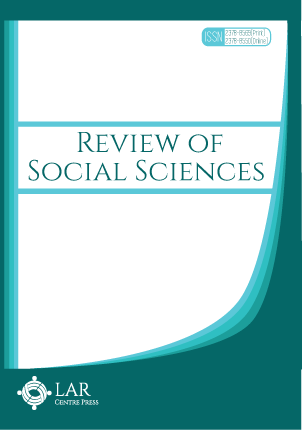 The Review of Social Sciences publishes qualitative and quantitative researchers in all fields of classical social sciences such as sociology, human geography, political science, anthropology, archeology, history, law, linguistic, education, philosophy, psychology. Researchers in Natural sciences that are discussed within the scope of social sciences are also considered for publication.
The journal is published monthly by the LAR Center Press, a not-for-profit organization based in Beaverton (US) and Toronto (Canada).
Interested authors are strongly encouraged to submit their quality articles for review and publication. All articles judged suitable for consideration will be reviewed in a double-blind peer review process.
Announcements
Editorial correspondence with authors

It has come to our attention that some of our editorial emails going into Spam/Junk folder of your email client. Therefore, editorial office requests you to check your spam folder regularly.

If you find the editorial email in spam folder please open it. Then click on the Not spam/Not Junk button at the top to make sure it never goes into spam again. Below is an example of Gmail client.

Posted: 2016-11-30

Call for paper (Issue: January 2017)

Call for papers for forthcoming issue (January- 2017)

Posted: 2016-11-30
Vol 1, No 10 (2016): November (Ongoing)
Table of Contents
Articles